Carob Chip Cookie Mix (wheat-free)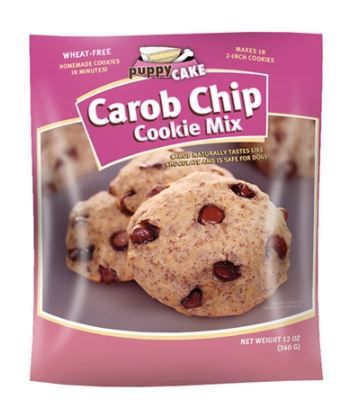 Winner of Best in Show for Natural Pet Products at the 2014 Global Pet Expo!
Makes 18 – 2 inch cookies
Net Weight 12 oz (340 g)
Ingredients: rice flour, unsweetened carob chips, evaporated cane juice, golden brown flaxseed, tapioca flour, baking soda, salt and natural vanilla flavor.
You will need
1 egg 2 tsp oil ½ c of water
1. Heat oven to 375F (350F for dark or non-stick cookie sheet.) Stir cookie mix , egg, oil and water in medium bowl until dough forms.
2. Drop dough by rounded tablespoons full 2 inches apart onto greased cookie sheet (or use wax paper instead of cooking spray)
3. Bake 8-10 minutes or until edges are light golden brown. Cool 1 minute before removing from cookie sheet. Store cooled cookies in airtight container.