APPLE OATS AND COCONUT COOKIES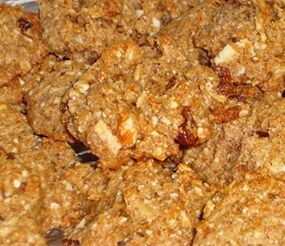 APPLE OATS AND COCONUT COOKIES
Organic Oat Flour
Organic Rolled Oats
Organic desiccated Coconut
Organic. Honey
Organic Applesauce
200 gram

Did you know?
Apples in addition to being tasty treats, provide nutritional benefits to your dog. They offer vitamin C and dietary fiber, and they are low in sodium and saturated fat. They contain calcium and phosphorus, and they also add to a dog's skin and coat health by adding omega-3 and omega-6 fatty acids to your dog's diet. Dogs with sensitive digestion are said to tolerate apples well.
Oats are a great natural source of iron, manganese, zinc and B vitamins as well as essential fatty acids and antioxidants. Oats are high in protein, and are equal to meat, milk and egg protein. Many Vets feel that the protein in oats is very hypoallergenic (less likely to cause an allergic reaction) and therefore an ideal nutrient to be included in a diet formulated for pets suspected of having a food sensitivities or allergies. The soothing properties can help a pet with some digestive issues. Oats also contain almost a complete list of the essential amino acids.
Coconut is highly nutritious and rich in fiber, vitamins, and minerals. It is classified as a "functional food" because it provides many health benefits beyond its nutritional content. Coconut helps reduce allergic reactions, improves digestion and nutrient absorption, cholesterol levels, aids in the elimination of hairballs (cats) and coughing, and reduces or eliminates bad breath in dogs. Coconut also helps to reduce heart disease and control diabetes as well as helping to protect against kidney disease and bladder infection.